IDune
Version V2.195
<![if !vml]>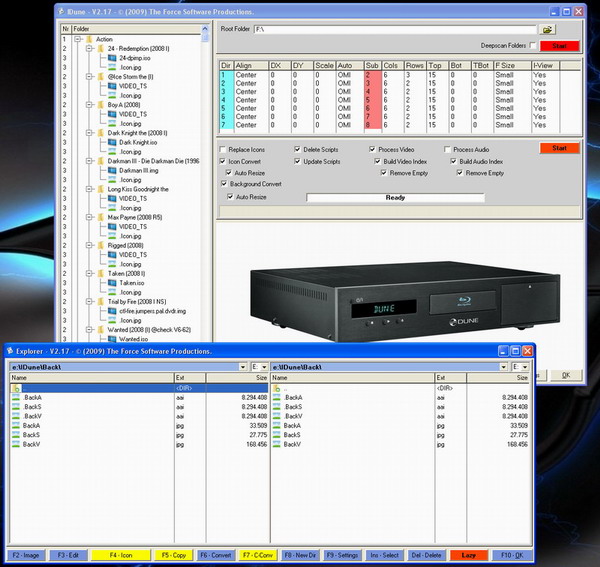 <![endif]>
To reduce the download of updates, IDune is split up in parts.
No install Needed just extract the archive to a folder of your choice.
Full Version V2.191 incl. Help     : IDune_2.191.rar
Update V2.1xx to V2.195              : Upd_2.195.rar
Change log:
V2.195
- Added an option "Use m3u PList" to the Main Window.
  When IDune finds a file (during Scan Root) named "PlayList.m3u" (case insensitive) in a directory it
  will use this "PlayList.m3u" in the media_url instead of any other mediafile that will be found.
  The Tree-View will then show a special PlayList Icon and will not show any other mediafiles.
  Special note: The use of "Use m3u PList" is independent from "Process Video" or "Process Audio"
V2.194
- If a read-only dune_folder.txt is found no changes will be made to it.
  Icons, backgrounds etc... Will NOT be processed for the folder where this dune_folder.txt is found.
  In the TreeView you will see a key icon when a read-only dune_folder is found.
V2.193
- Fixed a bug with convert/copy/Process only the first +/- 220 Files/Folders where processed.
- Added Volume Name to the Log File, it is also saved in the CSV file.
  Loading of old logs no longer supported.
- Added option Background Active. If de-selected then no background entry will be used in the dune_folder.
  (It makes no changes to the backgrounds images, only the dune_folder is changed).
- Added option "Setup" to Script Listbox "I-View". When set to "Setup" the display of the
  Icons is controlled by the Dune Setting "Default folder view".
V2.192
- Converting Images pops up an Error Message while there is no Error (Errorcode = 0)
IDune Explorer:
- With Alt1 and Alt2 (Set Path) you can now enter only the drive letter C, D, E etc...
- If the LEFT & RIGHT Pane are the same they will sync correctly after Delete, Copy and Convert.
V2.191
- Corrected mix-up of the installation files
  (INI File was also wrong in V2.18 download)
V2.19
- Fixed bug when filename without extension ended with space (Error File not Found with Copy, Convert etc...)
- Scale setting in Script Listbox now accepts decimals. Range 0.0 - 5.0
- Added some balloon tips in Main window.
- Fixed (I Hope) crash in Vista when using F2 to view an image.
V2.18
- Added Processing of Background Images by IDune.
  Added Background Image in Settings. Works the same as the Icons Settings;
  Enter Name of BackGround Image & values for dune_folder.txt
- INI File Changed (to save the background image info)
- Added new type of Icon to the TreeView Listbox (Golden Star = Background Image Found in Folder).
- Added Background Settings for Catalog (See Settings for Position/Size of Background).
  Backgrounds are taken from IDune\Chars
  .BackV.aai      - Background for Video Catalog.
  .BackA.aai      - Background for Music Catalog.
  .BackS.aai      - Background for #ABC Folders.
  Create your Images (Best 1920x1080) Convert them in IDune Explorer to AAI, Rename them to the above
  and copy them to IDune\Chars
  The Dune can also upscale the images (See Settings) but I think IDune has a better scaler.
IDune Explorer:
- Added F4 Key (and button). Used to change the Copy and/or CopyConvert Mode of the Explorer.
  Default is Icon mode (Yellow) Images will be copied and renamed to your Icon Name in Settings.
  Background mode (Fuchsia) Images will be copied and renamed to your Background Name in Settings.
- Added some extra display info when converting Images in Processing. (Could take some time to
  build big AAI images).
Note: To enable ISO support in the media_url: Go to Settings -> Processing and set the "no url" for the extensions ISO & IMG to 0.
V2.17
- Some small bug fixes.
IDune Explorer:
- Added Drop-down listbox with all the drives in the system.
- Added Ctrl-R to Refresh the directory listing.
- Added Alt1 / Alt2 to Enter a path for the left and right pane.
- Path entry is now a dropdown listbox which holds the last 10 paths.
- Changed the Lazy Mode. You can now select what to browse in Lazy Mode:
  Only missing Icons      - Show only those Folders with missing Icons.
  Audio Media                - Show only folders with Audio Media
  Video Media                - Show only folders with Video Media
  Folders without Media  - Show only folders without Video/Audo Media (Genre Folders).
- Changed the layout of the logfile, easier to sort now in MS-Excel.
V2.16
- dune_folder.txt in Catalog was not correct.
- Fixed a bug with the centered eror windows (a exeption could occure).
- Enhanced the Log File, you can now load previous made logs.
  Added free/used/total disk space.
V2.15
Main
- "Scan Root" is now a seperate thread.
- Added Timers to all windows, because the application is now full threaded) to close them when the
  Main window is closed.
- Removed "Zoom TreeView" not needed anymore, windows can now be resized.
- Created Log File Window, press F3 to see the log file. Log File is filled after Scan Root.
  Press button "Write CSV" to write the logfile to disk. (Press column headers to sort before writing).
- New Settings Screen (Tab pages)
- Added option in Settings "Delete Images after Convert"
  When checked original jpg, png, etc... will be deleted after sucessfull Convert to AAI.
- Added Auto Resize Images in Settings (Set Values in Settings and Turn it on in
  Main Screen "Auto Resize"). Images will be resized when converted to aai.
- Handle special characters in dune_folder/ Needed to convert UTF8<->ANSI
- Centered Error Windows
- New INI File
Explorer
- Fixed Bug with Image Info display position (Resizing Explorer window when View is active)
- Added Font Size for Explorer in Settings
- Added F8 or Create Dir button to Create a new Folder
- Enabled F5 Copy of .Cover.aai files
V2.1
- Fixed a Bug when converting Images from \\MyNas\MyShare\ to a local Drive, the wrong extension was taken.
- Fixed Bug Explorer not showing the correct File size.
- Added option in Settings to ask conformation when deleting a single file.
- Changed the way files get deleted, No more re-read directory after delete.
- Added option in Settings to control Picture Resize when viewing
- Added Image info bar when viewing Images.
- Added option in Settings to Strip the Alpha channel (Transparency) when viewing.
- Added New Image Viewer Mode (F2 or Right Mouse Click) turn Image view on/off). When Image View is on
  you can browse your folders and the pictures will be automaticly shown. When Resize in Settings
  is Set to None the picture is shown in its full size. You can scroll through the Picture with
  the Scrollbars.
- Disabled F5, F6, F7 when the new Image View is Active.
- Explorer now runs in a seperate thread, you can work in both windows no need to close Explorer
  when going back to the Main Window.
- Added option pressing F9 in Eplorer will show the Settings Screen.
- Added Ctrl+R key in Explorer Pane's to Refresh the Folder contents.
- Added option in Explorer; Double Mouse Click on a Folder, opens the folder.
- Added option to Resize/Maxmize the Main and Explorer Window.
- Added Save Window Positions on Exit and Set them on Start.
- Corrected Pictures of Center/Prime (wrong aspect Ratio)
- Added Tray Icon, Double click it to Hide Widows, Double Click again to Show them.
  What is the use of it?...Well Nothing...It was just added for Fun :).
V2.0
- Fixed problems with Network path e.g. \\MyNas\MyShare
  The media_url & iconpath in dune_folder.txt for _Catalog was wrong.
- Fixed IDune explorer Sorting directories and files wrong.
  Wrote new file sorting routine.
- Added option in IDune's Explorer to delete multiple files (use <Ins> to select files).
  Added "lazy mode" Copy option (See Help File)
- Enabled Save button with view of dune_folder.txt in Explorer.
- Display of Music (Audio) Media files in TreeView Listbox.
- Added option to build a Music (Audio) Catalog Entry.
  Video Index name = _CatVideo (Icon = IDune\Chars\.MainV.aai)
  Audio Index name = _CatAudio (Icon = IDune\Chars\.MainA.aai)
- Moved Extension voor Video Files to Settings and added Audio Extensions.
  IMPORTANT rename your Extensions.dat to VExtensions.dat
- Added extra option in extension "No url" for a specific extension.
  Needed for iso files, they show up in Catalog but dune_folder does not point to the iso.
- Increased number of entries in Script Listbox to 7.
- Added Zoom TreeView (F3) in Main Window.
- Moved Icon Name to Settings and can now be changed by the user.
- And now the best parts:
  1. Removed the (very buggy) AAImageGen.exe and replaced it by my own conversion routines.
  2. Added a option in IDune Explorer to Convert multiple Images to .aai
     (Use <Ins> key to select/deselect and then press F6 (Convert). If you selected files in the
     left pane they will be converted and copied to the right pane.
     (Supported image types: BMP, GIF, JPG, PNG, ICO, TIF TGA, PCX, WBMP, WMF, JP2, JPC
     PGX, PNM, RAS, JBG, MNG and last be not least AAI.
  3. Added possibility to resize images while converting (only when selected files is active)
  4. And while I was busy I added a Image (pre)viewer....yes the first AAI viewer in the world :)
     The above four items where a real challenge and took a lot of work, I hope you will be happy
     with them.
                                    Thanks to "Davide Pizzolato" for his great CxImage lib.
            It's now upto HDI to add BDMV, VIDEO_TS, ISO and just Folder support from dune_folder.txt
V1.02
- Fixed a bug with the 0 dir in _Catalog (# Icon)
  Movies Files starting with a number gave a error.
- Added Icons to IDune's explorer and changed Icons in TreeView
- Complete rewrite of the way Processing is Done.
  Processing is now a seperate Thread, which can be aborted by pressing the Stop button.
  If window ends while Thread is still running the Thread will be stopped automaticly.
  When the Thread runs some items are disabled (The Thread depends on them).
- IDune now supports Folders with multiple MediaFiles.
  The Icon of Such Folder is Shown and when Selected the Folder opens instead of playing the first
  Media File. When the Option Replace Icons is used the "IDune\Covers\Series.aai" will be used.
- Added Option DeepScan. Normaly IDune stops scanning Folders when a MediaFile is Found.
  When this option is turned on it tries to scan the sub-Folder too. IDune will still stop scanning
  folders when it finds a BDMV or VIDEO_TS folder.
- Added Settings Screen to Control the display of Icons for the _Catalog Dir.
- Added selectable background for IDune. Go to Settings and choose Center or Prime.
- Added Field I-View (Icon View) for a Level. You can now turn Icon View On/Off per Level.
- Added option to IDune's explorer to View the dune_folder.txt (Saving will be implemented later).
V1.01
- Added extra option in Script Listbox to automaticly use icons depending on movie extension.
            OMI - Only missing Icons (Onle when no Icon is found)
            ALL - Replace All Icons with new ones.
  If there is no Iconname entered in the Extension Listbox for a certain Movie Extension then nothing will
  be copied. To make use of these options you have to check the option "Replace Icons".
  Script.dat must be overwritten with the new one.
- Added Settings to Control the Icons in the Catalog Folder.
  Changed INI file to saave them.
- Changed the Help file (Press F1 to see it)